What marks the beginning of the holiday season for you? Is it the smell of ginger, pumpkin and spiced baked goods? Is it the sound of that familiar yuletide song on the radio? Or is it the sight of that first Coca-Cola holiday advertisement?
For many, Coca-Cola is indeed the brand that comes to mind when getting into the holiday spirit. This is more than reasonable, if not completely understandable, since Coca-Cola has been hard at work on branding themselves for the holidays since 1931.
That first decade or so of holiday magazine advertisements really portrays how Coca-Cola used familiar stories, pop culture and current events to become the quintessential holiday brand.
Use of familiar stories
For that first holiday magazine ad, The Coca-Cola Company hired the D'Arcy Advertising Agency. Archie Lee, the executive on the project, decided upon a realistic yet symbolic and altogether wholesome Santa as a focus. To bring this Santa to life, Haddon Sunblom, an illustrator who got his start painting pin-up girls, used Clement Clark Moore's 1822 poem A Visit From St. Nicholas (better known to us as Twas The Night Before Christmas) for inspiration.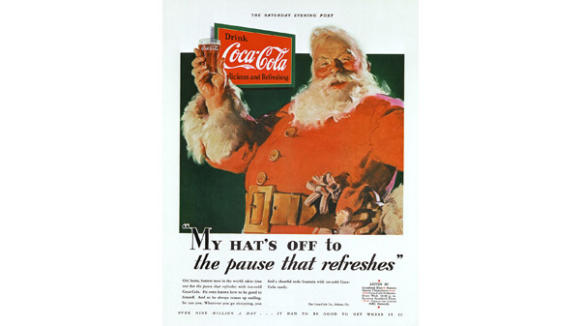 It's important to note that this is not the first image of Santa, nor is it the first Coca-Cola holiday advertisement. Coca-Cola previously released holiday ads in the Saturday Evening Post even with Santa. That Santa however wasn't the warm friendly Santa Sundblom went on to bring to life. It's also important to note that Santa before Coca-Cola and Sundblom was depicted from anything to elf-like to a sterner Santa-type.
Sundblom went on to create Coca-Cola holiday ads featuring Santa until 1964. Towards the end of these ads he even used himself as the model for Santa. This not only shaped Coca-Cola as a holiday product, but it also shaped this particular Santa as the holiday Santa that is recognized around the world today.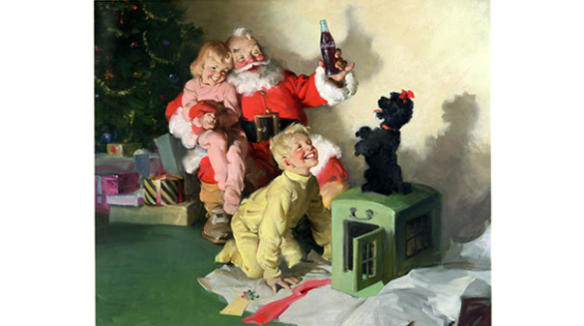 Referencing pop culture
Coca-Cola was originally only consumed from soda fountains, but in 1928 drinking from bottles began making way into homes. By 1937 Coca-Cola bottles had truly risen to popularity, so naturally the holiday ad campaign featured that familiar Santa drinking Coke from a bottle in front of the fridge.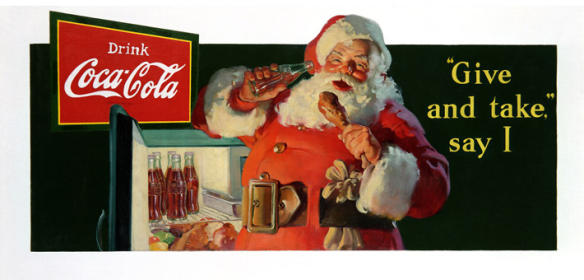 A few of the holiday ads featured Santa with popular toys gifted to children. For example, the 1936 campaign showed Santa with an electric toy train. As new toys trended, Coca-Cola made sure to place them alongside Santa and of course a Coke. This was the case in the 1962 holiday ad campaign which also included an electric toy helicopter. The popular holiday toy and the familiar image of Santa all reinforced Coca-Cola as the holiday product and brand.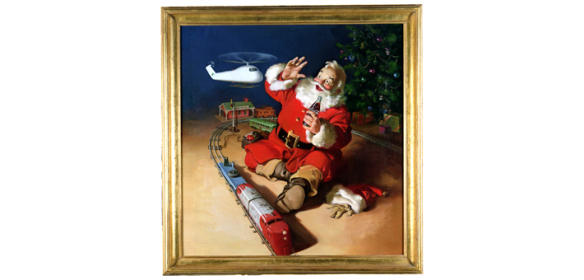 Along with the Coca-Cola bottles and trendy toys, Santa himself became a pop culture holiday icon after the first decade or so of holiday magazine ads.
Sprite Boy
There was however somewhat of a pop culture fail with these ads, and his name was Sprite Boy. Sundblom added Sprite Boy alongside Santa to the holiday magazine ads in 1944 and 1949, but he never caught on and was never seen again.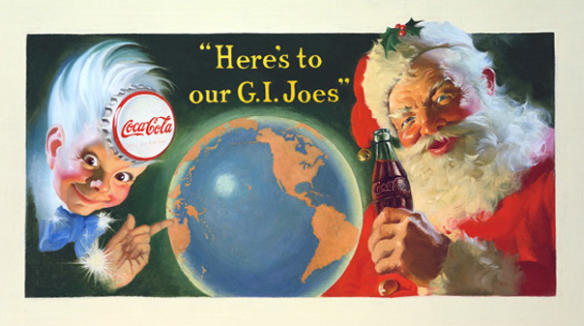 Use of current events
As Americans were recovering from the Great Depression, Coca-Cola used their 1938 holiday ad campaign to remind them of enjoyment by way of Santa enjoying a Coke with a youngster in his arms.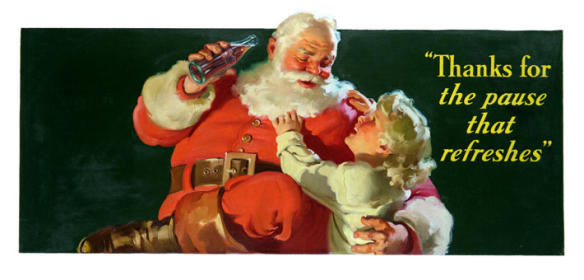 As Americans were preparing for war (WWII), Coca-Cola used their 1943 holiday ad campaign to support the war effort by way of showcasing Santa with a Coke in one hand and his toy sack over his shoulder filled with toys and war bonds.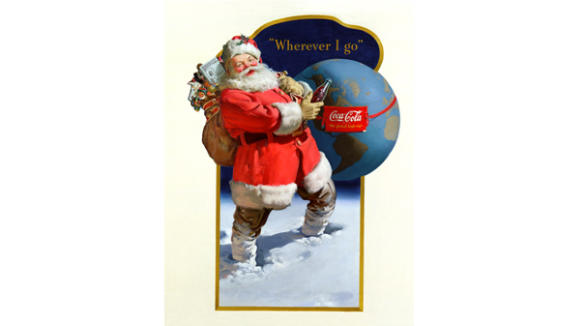 Even as Americans were coming home from WWII, Coca-Cola yet again took advantage of this current event with their 1945 holiday ad campaign showcasing Santa coming back to a welcoming home complete with a note and a Coke.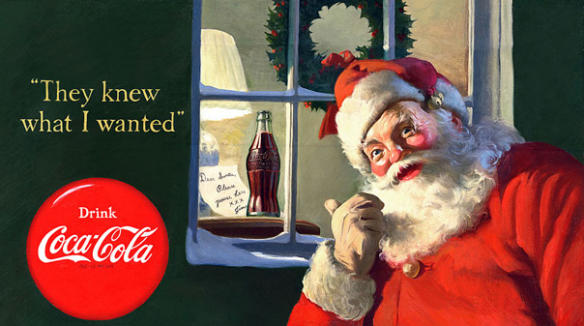 While we all know there were far more economical, political and social events that were taking place between 1931 and 1964 than the Great Depression and WWII, they just weren't included in the Coca-Cola holiday magazine ads. The Coca-Cola Company and D'Arcy Advertising Agency chose to keep the ads classic and focused on their product in conjunction with Santa as well as children and toys from time to time.
The familiar story of Santa, the pop culture shift from soda fountains to bottles and inclusion of trending toys as well as current events such as the Great Depression and World War II all helped shape Coca-Cola as the classic holiday brand. With each annual holiday ad campaign, Coca-Cola built a connection to their audience with something that hit home thereby making their product one that was bought and taken home. To this day, when many see Santa drinking a Coke in a magazine or on the side of a delivery truck or on a can, they know the holidays are here.
PS: If you're looking for some intelligent tools to distribute your brand assets we've built Brandisty just for you!