With each passing year, brands continue to move their advertising more into the digital arena. Moreover, the continued importance of social media has given many brands the opportunity to create some great branding campaigns. Unfortunately, each year consumers of some of the largest brands in the world also get to experience the not so good branding campaigns, leaving you with the thought, "what were they thinking?"
Doritos lacks family values
The story
In this commercial during the Super Bowl back in February, a little girl requests that her Dad come play with her. He replies to her, as he's walking away, that he is going to spend time with the guys instead.
The girl then pulls out a bag of Doritos to lure her father back and before you know it the father and daughter are dancing around in full make-up, and eating Doritos.
What we can learn
After watching this commercial there really doesn't seem to be anything wrong at first. It's a playful commercial between the daughter, father, and his friends. Although what is Doritos really saying? They're placing their brand above the relationships in a family.
What is even more odd is the dialogue between the daughter and the father before he has committed to going outdoors. It's almost as if his excuse is something he would be telling his wife, not his daughter. Why would any 5-year-old know what "the guys, they're outside waiting" means?
As a consumer, I want to see a product that will benefit my already happy family. Not use it as a temptation to bring them closer together. Ultimately this is something Doritos can get away with, but don't make the mistake that your brand can pull this off.
J.P. Morgan can't handle the heat

The story
Back in the middle of November, J.P. Morgan thought it would be a good idea to do a Twitter takeover and answer questions via the #AskJPM hashtag. Their goal was to give people an opportunity to chat with Jimmy Lee, the Vice Chairman of J.P. Morgan.
Once the Twitter campaign had been announced, the masses began tweeting hilarious and sometimes real questions that J.P. Morgan would never answer. Many of the questions went viral and it showed that the recession, and the J.P Morgan played in it, was still fresh in peoples' minds.

What we can learn
There are 2 large fails in this disaster for J.P. Morgan.
1. They weren't cognizant of their public perception.
They were coming off a few years of what many consider criminal activity, followed by tons of bad publicity. Always be aware of how you stand with your customers, and make sure you're still a positive thought in their minds.
2. They didn't face the criticism.
They got themselves into a hole, but looked even worse for canceling the Q&A. I am very sure they have a talented PR firm, and should have addressed some of the questions no matter how hard they were to answer.
Home Depot's racist tweet

The story
Home Depot is a big sponsor to ESPN's College Gameday, and in November they tweeted out a pretty obscene picture with #CollegeGameDay hashtags. It was a picture of 2 African-American men and someone in a gorilla suit asking "Which drummer is not like the other?"
Home Depot quickly deleted the tweet, but as in everything on social media, a follower was able to screenshot the tweet and it went viral from there. The Atlanta-based retailer apologized to everyone and even went to the extent to fire both the employee and firm responsible. In Home Depot's defense, they handled the situation as best as they could.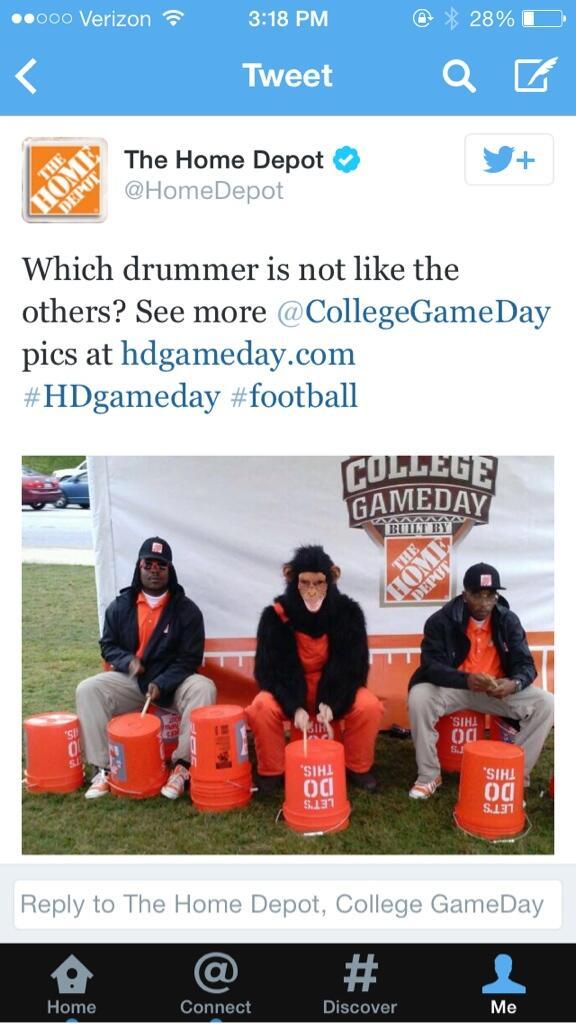 What we can learn
1. Anything close to being considered racist should be avoided at all costs.
Home Depot publicly stated they had reworked their social media policies to make sure this didn't happen again.
2. Social media is permanent.
There is nothing that goes on any public account that will not be saved somewhere else. Be careful what you post unless you're trying to start a fight.
Samsung tries to strong arm customer

The story
A few months back, YouTube user GhostlyRich reported that his Samsung Galaxy S4 had caught fire while charging overnight. The concerned customer took to his YouTube to share with his followers that the phone is dangerous. What happened next could be considered the biggest backfire ever.
Samsung contacted GhostlyRich and offered to replace his phone for another model provided he sign an agreement to take down his YouTube video and not speak on the issue again.
Extremely dissatisfied with the offer that Samsung sent him, he went back to his YouTube page and uploaded a video reading the letter aloud, revealing all the parts which did not put Samsung in good light. He ended the video saying he would be switching carriers and left a parting expletive to Samsung.
What we can learn
You can never take care of your customers enough. After his first YouTube video, Samsung should have known they were dealing with someone who was not afraid to go public with anything. With that being said, a customer who experienced a possible fire due to an electronic malfunction deserves much more VIP treatment than a letter replacing the phone with a "similar model." This is where you go over and above to remind your customer how much you care about them.
Bank of America 'bot' tweets incite fury

The story
Back in early July, Bank of America became the subject of a major Twitter fail that embarrassed the company. It all started when activist Mark Hamilton was chased away by cops outside a Bank of America for participating in an anti-foreclosure message. His tweets sparked a fury of other angry tweets to which the bank responded in poor fashion.
Instead of addressing the issue, Bank of America sent out auto-reply tweets offering to review their bank account & address any concerns. This only led to more furious tweets that the company could care less about what is happening in the outside world.
To make matters even worse, reps at Bank of America reported to DigiDay that they use real people, and bots were not used in this case. Are they serious?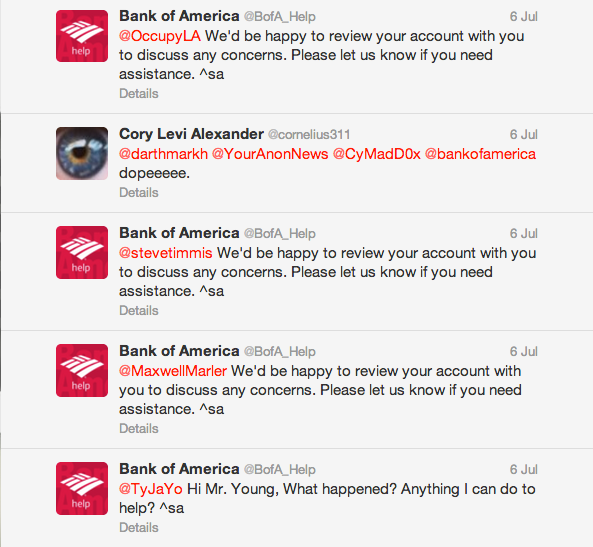 What we can learn
Social media is supposed to be an outlet for your brand to communicate with your customers. Using an auto responder or a bot only makes things worse as it's another form of an automated phone system. Instead of using a bot (which they had to be using), apologize and say you're hiring real people who will take better care of your customers.
The wrap up
While all of the companies above made poor decisions, the end result was only a temporary black eye. They each rebounded and learned a valuable lesson. Fortuitously, they each provided a funny and informative case study that many of us can apply to our own brands. As 2013 comes to a close, let's take these lessons we've learned and give our brands a strong 2014.
If you would like to updated on more articles related to better branding, please enter your email address below.
PS: If you're looking for some intelligent tools to distribute your brand assets we've built Brandisty just for you!